A change is coming to the ranked matchmaking setup in Dota 2, which will see a replacement to the existing matchmaking rating value (MMR) in the form of a range of Seasonal Rank Medals.
Medals reflect players highest rank, regardless the tier they participate in. So if you hit at Tier 3, but are playing on a Tier 2 level, you most recent, highest medal will display on your profile.
"A Seasonal Rank Medal never decreases in rank once you've achieved it. Initial calibration games will be seeded roughly based on your previous skill,". This info came when Valve announced the details of the swap over in their  blog post.
The five-star progression course will sweep across the following 7 levels: Herald, Guardian, Crusader, Archon, Legend, Ancient, and Divine.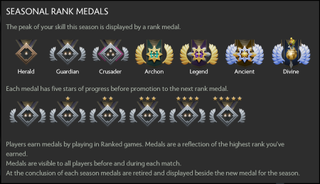 The announcement also stated: "Your performance in both Party and Solo games is considered when evaluating your skill and determining when your Medal gets upgraded, with Solo games having a bigger impact. In order for players to achieve either the Ancient or Divine Medals, only Solo-game performance is considered."
"This update also expands the Leaderboard system to include many more players. Players with 5 stars on the Divine Rank Medal (the highest rank) will now have a leaderboard number listed with the medal that broadcasts their position amongst other players. This leaderboard position will always be displayed alongside the Medal, and will be visible to all players in the game and on your profile."
Dota 2 – Unbeatable. Find more awesome Dota 2 highlights on Dingit.tv